Sings Like Hell Series #38
If you have questions, call Peggie Jones at 512-751-1170 or send me an email at Hellgirlsb@aol.com.
Sings Like Hell Series #38
You do not want to miss this series! Click here to purchase the entire series for just $150 + $24 Lobero Facility Fees.
Saturday, January 23, 2016
Jackshit
From deep in heart of Cochtotan, CA, comes possibly the greatest rock band in the world. With two Hall of Famers and a guitar slinger of fearsome reputation, JackShit is poised to take on the known universe. Get ready, Santa Barbara: here comes Pete Thomas, Davey Faragher and Val McCallum… JackShit!
Single tickets available here.
Friday, February 26, 2016
Aoife O'Donovan +Robt Sarazin Blake
Aoife O'Donovan
Aoife O'Donovan's sophomore album, "In the Magic Hour" — produced by Tucker Martine (The Decemberists, Neko Case) and out Jan. 22, 2016 via Yep Roc Records — is a 10-song album full of the singer's honeyed vocals mixed with gauzy, frictionless sounds: splashing cymbals, airy harmonies, the leisurely baritone musings of an electric guitar. Written in the wake of O'Donovan's grandfather's death, "In the Magic Hour" is her most introspective effort yet, an aching exploration of memory and mortality.
For a decade, O'Donovan wielded her instrument with tensile strength as the captivating lead singer of the Boston-based progressive string band Crooked Still. She was a featured vocalist on "The Goat Rodeo Sessions," the Grammy-winning album by Yo-Yo Ma, Stuart Duncan, Edgar Meyer and Chris Thile, has made regular appearances on A Prairie Home Companion and collaborated with some of the most eminent names in music across a wide variety of genres from Alison Krauss to Dave Douglas.
 In 2013 O'Donovan released her debut solo album, "Fossils," a moody collection of original songs with a country lilt. The album garnered praise from The New York Times and Rolling Stone, while The Guardian deemed O'Donovan the "next Americana celebrity." Most recently O'Donovan has lent her voice to the folk trio I'm With Her with singers Sara Watkins (Nickel Creek) and Sarah Jarosz.
Robt Sarazin Blake
For 20 years Robt Sarazin Blake has been singing, strumming, and writing songs around the US and Ireland. In 2011 he released two new albums with long titles, 'A Long Series of Memorable Nights Forgotten: The Belfast Sessions' and 'Put it all down in a Letter'.  In 2013 he released his 11th album with no title at all: 'Robt Sarazin Blake'. His songs are stories told in his own unique, controlled stream-of-consciousness. The music captures ears and puts the focus on the pictures. His 2016 Winter tour will showcase new songs from him upcoming album with a very short title, 'Recitative'.
Single tickets available here.

Saturday, March 26, 2016
An Evening with John Fullbright
John Fullbright got his start at the legendary Blue Door listening room in Oklahoma City. It was there that he recorded a live album and found his base, opening for many other writers including fellow Oklahomans Kevin Welch and Jimmy Webb. His 2012 studio debut, From the Ground Up, received a Grammy nomination for Americana Album of the Year, and later that year he won ASCAP's Harold Adamson Award for lyric writing. In 2014, John released the critically acclaimed Songs, toured all over America and the UK, and appeared on Late Night with David Letterman.
Single tickets available here.
Saturday, April 23, 2016
Chuck Prophet & the Mission Express + Garland Jeffreys
Chuck Prophet & the Mission Express are thrilled to be backing Garland as well as doing our own thing on these shows. Garland came to see us at the Bell House in Brooklyn and we worked up some songs for the encore. It was a blast and we made big plans to do more. What can I tell you about Garland? (People get a kick out of hearing he was Lou Reed's college roommate. Who swept the floor? With who?) 
Garland Jeffreys recorded "Wild in the Streets" with swamp-boogie grand wizard Dr. John, but its hot-summer-asphalt beat and back-alley-hiss chorus are NYC through and through — just like Jeffreys himself. Born in Brooklyn in the 1940s, half black and half Puerto Rican, he went to college with Lou Reed and was an early protégé of John Cale. If you go into a jukebox bar NYC and Garland Jeffreys ain't on the jukebox, turn around. You're in the wrong bar.
-Village Voice
Hear for yourself:  http://bit.ly/1y2srMz
Chuck Prophet
Since emerging onto the music scene at age 18 as a member of the seminal rock band Green on Red, Prophet has collaborated with everyone from Warren Zevon and Kelly Willis to Jim Dickinson and Lucinda Williams among many others. In recent years, Prophet's music has been featured in several hit television series including HBO's "True Blood," Showtime's "Californication," and FX's "Sons of Anarchy." He also co wrote all the songs on Alejandro Escovedo's 2008 critically acclaimed album Real Animal.
Garland Jeffreys
Forty years into his storied career, Garland Jeffreys is enjoying the kind of creative second wind most artists can only hope for the first time around, earning a swarm of critical accolades and experiencing his most prolific stretch in decades. Truth Serum, his second album in two years, is a cri de cœur, a stripped-down tone poem from an artist taking his rightful and hard-earned place in the musical pantheon.
Single tickets available here.
Saturday, May 21, 2016
Jimmer Podrasky + Hamell on Trial
JIMMER PODRASKY is best known as the frontman/songwriter for the critically-acclaimed American band The Rave-Ups, whose EP CLASS TRAMP and albums TOWN AND COUNTRY, THE BOOK OF YOUR REGRETS, and CHANCE still have a devoted following more than twenty years after their release. After graduating from Carnegie-Mellon University in 1980, Podrasky headed west and quickly made a name for himself as an alt country/indie-rock tunesmith and singer. With The Rave-Ups, Podrasky appeared in the iconic "Pretty in Pink" and on "Beverly Hills 90210". THE WOULD-BE PLANS is his first officially released album in 23 years.
The musical alias of New York-based anti-folk hero Ed Hamell, Hamell on Trial is a one-man punk band that plays loud, fast music informed by politics, passion, energy and intelligence. His caustic tongue and devil-may-care attitude has long been a favorite of anti-establishment musical icons Henry Rollins and Ani DiFranco and the critical elite and incited Rolling Stone to call him "bald, bold and superbad", describing his signature sound as "attack-dog protest folk and ferocious staccato strumming (think Husker Du on Folkways Records)." He has been described as "Bill Hicks, Hunter S. Thompson and Joe Strummer all rolled into one" by Philadelphia Weekly and a "one-man Tarantino flick: loud, vicious, luridly hilarious, gleefully and deeply offensive" by the Village Voice.
Single tickets available here.
Tuesday, May 24, 2016
The James Hunter Six
It's been 10 years since the Englishman James Hunter burst onto the scene with his U.S. debut People Gonna Talk (GO/Rounder 2006), topping the Billboard Blues chart, earning a Grammy-nomination, and attracting universal acclaim from critics and his fans—including Van Morrison, Sharon Jones, and Allen Toussaint. Over the last decade, he's toured extensively around the world on the club, theatre, and festival circuits, steadily growing a dedicated audience comprised of hardened gig-goers, old-school baby boomers, and young hipsters alike. His follow-ups The Hard Way and Minute By Minute (GO/Fantasy), further cemented Hunter's reputation as a soul powerhouse, heralded for his talents both as a live performer and perhaps even more so as a songwriter, with The New Yorker describing his "tight, taut compositions" as "rooted in American soul music without being bound to it."
Now Hunter is back with his fourth album, Hold On! marking his debut on Daptone Records, America's premier soul imprint and Hunter's second collaboration with famed producer Gabriel Roth aka Bosco Mann. It also marks a cumulative and consecutive total of 48 original songs written exclusively by Hunter, without resorting to a single covered recording. At age 53, Hunter feels he has finally found his home for making music. "The great thing about working with Gabe is that he can get our tunes on tape exactly the way I heard them in my head when I was writing them," explained Hunter. "It's a rare thing when a producer knows what you're going for before you've told him. It's good to be associated with a record company that 'gets' us."
And the feeling is mutual. From Roth's perspective, "In today's R&B world, littered with retro-soul cronies, ear-twisting melisma, and hollow affectations, James has a voice that stands out not only for its natural beauty and grit, but for its honesty. His songwriting shares the masterful architecture and the inspired creativity of Smokey Robinson, each rhyme and rhythm crafted meticulously, somehow twisting familiar themes into unfamiliar new shapes."
Single tickets available here.
Saturday, June 18, 2016
US Elevator + Berkley Hart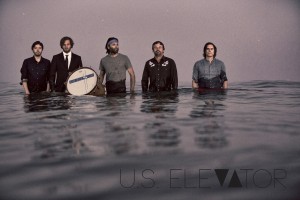 US Elevator
Before making a name in folk-Americana – which began when he teamed up romantically and musically with Sarah Lee Guthrie in the late '90s – Irion was on the South Carolina rock scene fronting a melodic psych band. Though elements of his musical past surfaced in the duo's albums, someone suggested they have a go at separating folk and rock, and Irion assembled an all-male band of friends, including Tim Bluhm of Mother Hips, who produced. There's a slew of great songs. Many wear their influences proudly. Dangerous Love starts like a Cheap Trick/Mother Hips mash then morphs into early Neil Young, whose voice Irion's sometimes resembles. Addictive rocker Community Service channels McCartney, while Cry For Help and Where The Rubber Meets The Road are gloriously Lennonesque. And there's cool instrumentals, harmonies and a big country-rock sing-along.
Berkley Hart have found something that works. The combination of Kerrville New Folk Songwriter Award winner, Jeff Berkley, and stand-out wordsmith, Calman Hart, creates a pairing that has become one of the premier acoustic duos touring the country. Every Berkley Hart show is packed with entertainment as the duo combines their natural down-home humor with poignant, delicate, masterfully crafted lyrics delivered with stunning harmony and musicianship. Between songs, the obvious camaraderie between these two top songwriters shines as they effortlessly play off each other in what can only be called genuine comedy. Add in virtuoso playing from both Jeff Berkley (guitar) and Calman Hart (guitar, harmonica) and it's easy to see why the two have become live favorites.
Single tickets available here.